The Real Thing Ministries
Encouraging the Body of Christ
Filled with Glory; as a flaming fire; the Shekinah Glory; God is a Consuming Fire!
Last Night at First Fridays at the Vineyard, I snapped this shot of Isamu and Kathy Tanaka.. looks like Isamu is surrounded by a gold cloud .. great fellowship, great worship, lots of joy! A great thanks to Isamu and Kathy!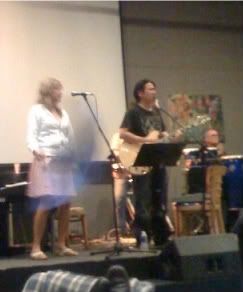 This was taken by a vistor who came to our FIRST FRIDAY REVIVAL.2011-2012

VORTEX FROM GOD ( THE PRESENCE OF GOD)
GOD MELTED MY GUITAR STAND
GOD MELTED MY GUITAR STAND
On June 5th 2009



On Friday Night at First Fridays Revival meeting on June 5th, I had a strange thing that happened. After the intense meeting I went to pack up my equipment. I noticed that my guitar stand was melted. Yes my guitar stand melted. The rubber part on top of my guitar stand was all melted. Also I noticed that the metal part was rusted. It looked like it been through heavy fire. I showed it to several people at the church to witness, this. They were all in shock. "I guess you were really hot play tonight" joking in amazement. After all that excitement, what about my guitar. I went to check out my guitar. I notice that my guitar was fine. No damage. Some how my guitar stand was the only thing melted, but my guitar was not. Now that is a miracle.

What is God doing!! I don't know. But what ever he wants to do It's all right, He is God. Signs and wonders. Unexplainable I say.

God Bless
WAVES OF MERCY
WAVES OF MERCY
Something will hit us in 2010
Something new , Something Awesome!
We need to learn to Ride the Wave. Don't worry God will show us. I been prayer about 2010 and I been seeing visions of Waves. But Big Waves. Later when I came home, back from the week getaway in the mountains. Someone lefted me on my chair and article of a someone riding a huge wave. The next day I read aother article regarding 2010 by a Prophetic Person. She wrote about Waves. Wow God conforming. The Wave. God is bring Waves of Mercy and with the Wave God is bring New Gifts to the body of Christ. The scripture that keep ring in my spirit Rev. 21:5 Behold, I make all things new. Also Old and New wine skins Jesus answered, "Can you make the guests of the bridegroom fast while he is with them? But the time will come when the bridegroom will be taken from them; in those days they will fast." He told them this parable: "No one tears a patch from a new garment and sews it on an old one. If he does, he will have torn the new garment, and the patch from the new will not match the old. And no one pours new wine into old wineskins. If he does, the new wine will burst the skins, the wine will run out and the wineskins will be ruined. [ No, new wine must be poured into new wineskins. And no one after drinking old wine wants the new, for he says, Luke 5:33-39 The Lord to me that this is the 2nd Wave, But there is a third will come.. /strong>
COME HUNGRY!!, COME WITH PRAYER AND INTERCESION, COME WITH SIGNS AND WONDERS, AND COME TONIGHT WITH EXPECTING, "There is a Great End-Time Visitation Coming - It is Almost Upon Us"
Healing Miracle Testimony! On Sept 4th


On the Night of First Fridays on Sept 4th. We had a Healing miracle! While we were doing a Fire Tunnel. A boy was healed in his eyes. He was wearing those thick bottle glasses eyes, you know what I am talking about. He longer needs glasses. I said to everyone just come in the Fire Tunnel and whatever you believing for it. We will all pray for you. While everyone entering the Fire Tunnel. The mother came up to me and said her son was healed. She showed me the glasses it was one those thick glasses. That Boy today still doesnot wear any glasses. Praise God!

What is a Fire Tunnel? ok It is what we call a prayer Tunnel. While Worshiping in songs. We have a gathering in a 2 lines, across from each other. Then the person on the end come through. Kinda forms a 2 lines hearts formation. Someone later mentioned that while I was prophesying I mention Eyes.being healed. Very cool!

Thank you Jesus.!

God Bless
SamTanaka

Check out video
 

Pretty cool!

God is Healing and supplying are needs. God is our source!!! Amen!


God Bless Isamu Tanaka
Miracle Provison
July 3rd

On the Night of First Fridays July 3rd. We had a provision miracle! While I was preaching and reading from the book of Deut 28. About the Blessing of Abraham. We had someone who walked in and gave us all at big box full of goodies from StarBucks. He said God told him to come down bring this to us. Pretty cool!

God is supplying are needs. God is our source!!! Amen!

May 7th

FIRST FRIDAYS FIESTA NIGHT
We had healing with Lady with the knees. We prayed for her and The Lord Healed her.
Praise God!! also saved a marriage!
April 9th
The Glory
A Girl heal from Depression. Healing a back.
March 5th
Healing in the stomach, legs.
Feb 
God release people to go out one to China, other to India.

Jan 8th
It was great night of releasing the Holy Spirit. Some spoke in recieved the baptism. Also Word spoke going to China. Mission etc. Sending out!!
May 2009
Our Meeting on May 1st was success. We had a great time. The Lord came big time. I really enjoyed dancing in the River. Many were on the floor laugh, pasted out. I wished I video taped it. Thank you Jesus!!!!
April 5th 2009

Our meeting April 3rd was sucess. We had a number of people who fell oby the power of the Holy Ghost. One woman had oil pouring out of her hands real cool. The Anoiting still carried over on Sat Night
june 6th 2008 (Healing Service)
Collen
healing in knees
(during the Healing and Miracles meeting

Burnohse wife
healed hip.(during the Healing and Miracles meeting

woman healed ears
(during the Healing and Miracles meeting

Woman heal Bronctouis
may24th 2008
Oh, by the way, I don't know if I told you Sat. night, but I got
healed! My arm and shoulder were hurting really bad, but when I was
working the flags, God healed my shoulder! It quit hurting altogether!
Praise God!

Feb 1st 2007

Husband and wife sold house!!